Theatre Tax Relief officially came into force on Monday 1 September 2014 – a watershed moment for the UK theatre industry.
As leading UK theatre accountants and experts in Creative Industry Tax Relief claims, we are well placed to advise and guide productions on claiming TTR.
Qualifying for Theatre Tax Relief
A production qualifies if:
it is a dramatic production or ballet;
actors, singers, dancers etc give their performances wholly or mainly through the playing of roles;
each performance is to be performed live, in front of an audience or for educational purposes;
it may include a show performed by a circus (but not involving wild animals); and
at least 25% of Core Expenditure is spent in the EEA.
If you would like more information about Theatre Tax Relief please download our Fact Sheet or contact us for details.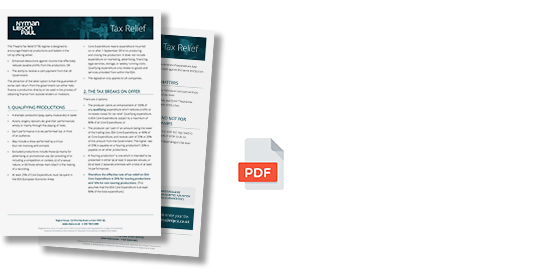 Download our Theatre Tax Relief Fact Sheet
To find out more about Creative Industry Tax Reliefs, download our Fact Sheets using the form below.
We will not use your data in any way you have not consented to. You are free to unsubscribe at any time by emailing unsubscribe@nlpca.co.uk, and to request access to any personal information of yours that we store. We will take every appropriate measure to ensure the safety of your data.
For full details of how we process your data, please see our privacy policy​​​​​​​.